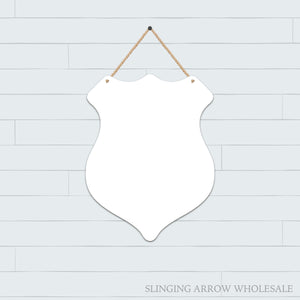 You will receive ONE door hanger with this purchase.
Dimensions: 11.8" wide x 15.25" tall
These sublimation blanks are laser cut out of 1/8" Unisub hardboard. After purchase you will be emailed the templates. Join our facebook group to get links and coupons to designs that are ready to print and press!
To learn how to press our blanks please visit the link below:
https://slingingarrowwholesale.com/blogs/guides
IMPORTANT:
All of our MDF/hardboard products are NOT food safe. DO NOT use them or advertise them as such. 
All of our MDF/hardboard products are NOT weather proof/resistant. We are NOT responsible for fading, warping, chipping etc. 
You WILL receive a zipped file that includes 2 png templates (bleed & actual) to be able to line your designs up. These templates are property of SLINGING ARROW DESIGNS. They are NOT to be shared, copied, traced, sold, etc. The templates are for YOU to create a design and print on OUR sublimation blanks only. If needing a different file type please just let us know. You CAN NOT cut your own blanks with these templates. You CAN NOT share our templates with other suppliers, EVER. For more info on our policies please see the policy links at the bottom of the page.